Why Should You Consider Custom Boxes for Your Packaging Needs?
We are dedicated to providing exceptional, customized paper boxes to meet all of your packaging needs. From food and beverage boxes to cosmetic packaging, we are highly focused on providing ingenious solutions to accommodate any size package that you will need. At PREMIUM Paper Box, we have the custom packaging solutions you need at competitive prices.
Set Your Brand Apart
In the ever-changing and competitive world of commerce, opting for a custom box design can be the ideal way of making your brand stay in the minds of your clients. Set yourself apart from other manufacturing companies by choosing our custom packaging printing services. Customizable from the inside out and adhering to the highest standards, every single custom printed box our team creates is made to meet your exact specifications, needs, and requirements. When you contact PREMIUM Paper Box, you can rest assured that we will make your products stand out from the crowd to attract new potential customers.
Regardless of your brand's industry – nutraceutical, pharmaceutical, health & beauty, cosmetics, food, pet food, cereal, beverage, coffee & tea, or snack food – you need custom boxes that'll gain your customer's attention and help increase sales volume. We can create your custom product packaging, adding foil stamping, protective gloss, matte, high gloss UV coating, or printing color directly on your boxes.
Custom Boxes Adapted to the Dimensions of Your Products
It's fair to say that custom packaging will significantly increase your products' protection during delivery. Design your boxes in any shape you want, whether they are irregular shapes or the exact dimension of your products. At PREMIUM Paper Box, you'll find custom paper boxes that are ideal for use with the makeup industry, food and beverage, pet supplies, private label, pharmaceuticals, and more. If you want to order custom sizes or a specific box style and design for your boxes, we'll have it done for you.
Moreover, our team will use the most modern and efficient machines to create ideal custom printed boxes that fit your company's needs.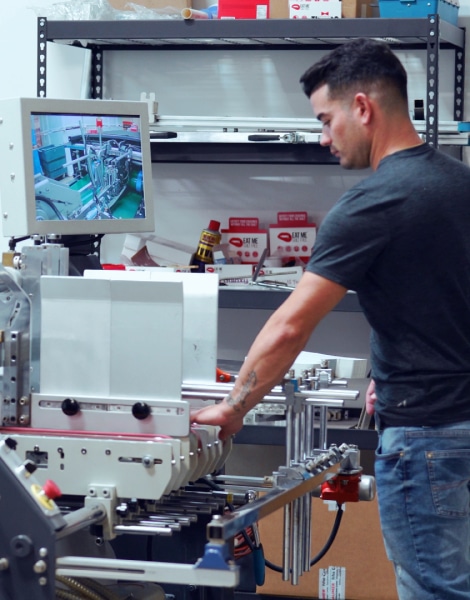 Sustainable & Ethical Custom Paper Box
At PREMIUM Paper Box, we provide excellent sustainable and renewable packaging options made from paper, so you uniquely and stylishly present your brand image. Whether you need our custom printed services for e-commerce, retail packaging, gift packaging, or even cake packaging, we ensure to deliver the highest-quality custom printed boxes that will suit every occasion. Besides excellent customer service, we offer you custom printing for an extensive range of applications and industries.
Our products
We know that packaging plays a vital role in promoting and advertising your brand and company. This means we're providing branded packaging to define who you are and help your brand enhance recognition. Let PREMIUM Paper Box help you create a custom packaging box to identify and highlight your business. In addition to offering a flexible and sustainable custom folding box, your products will be secure for any delivery. Need kraft boxes, or gift boxes? Give us a call at 305-691-1468.
Testimonials
"We have been relying on PREMIUM Paper Box for 12 years. They listen attentively, then create the perfect custom solution for each product's shape and size. We would not be as successful without their expert guidance and flawless production of the boxes that make our products elegant and unique."
"Thanks to PREMIUM Paper Box's rapid turnaround on reorders, my food delivery business–especially for pizzas—is strong. Timing is critical for the changing specials we publicize right on the boxes, and PREMIUM meets our tightest schedules."
"Best quality, reliable pricing, ecofriendly materials, and location in our own backyard keep us coming back to PREMIUM. As our market expands beyond Florida, we are proud to keep our packaging 'Made in the USA."
"In our highly-regulated industry, even packaging must meet high standards. PREMIUM Paper Box helps us ensure FDA compliance in all our packaging solutions, with proofs, prototypes, and expert customization for our whole range of products."
"Our hand-crafted beverages often call for short runs to package spin-offs and new products. For years we've trusted the team at PREMIUM Paper Box to execute outstanding design themes for our cartons, rigid boxes, and more. We appreciate their eco-friendly materials and energy-efficient equipment, too."
FAQ
Sure! In fact, a great majority of our clients are in the restaurant and food industry. At PREMIUM Paper Box, we provide an incredible range of shapes, styles, and designs for food products with 100% customization. For luxury chocolates, pizza and carry-out– we provide fully customized boxes. Our custom options can include die-cuts, lamination, and luxurious foil stamping. We can manufacture packaging using eco-friendly recycled and biodegradable materials for the environmentally conscious.
Engineering the ideal box for your products is our specialty. Some packaging solutions continue to evolve right up to the moment of production. Yet our customer-focused experts always deliver an excellent, timely outcome. Trust our team for unparalleled one-on-one attention for your private label packaging solutions. Ask about our cost-effective short runs!
No. Under no circumstances will we sell or distribute any of our customer data. Our company only uses your information to get in touch with you about essential updates on your orders.
When it comes to pricing, the price of a custom paper box varies depending on factors such as the thickness of the paper, design, size of the run, labor cost, printing, embossing, debossing, foil stamping, overall or spot UV. Send us your project right away so we can offer you a price.
Depending on the characteristics of your project, we will let you know how much it will take for us to complete your order (it may take between two and three weeks after you approve the printing proofs). Keep in mind that we never charge for printing plates, meaning that, if necessary, you can change the artwork that you run your new order at no extra cost to you.
Based on where you want us to deliver your custom paper boxes (we deliver nationwide), we may charge you for freight costs.
The dimension of a box is standard in the industry: W (Width) x D (Depth) x H (Height), where W is the front of the box (the one that will face your customer). Use a ruler to measure the length, width, and height. Keep in mind that the listed dimensions are at all times inside dimensions.
From nutraceutical to pharmaceutical, health & beauty, cosmetics, food, pet food, cereal, beverage, coffee & tea, or snack food, we have you covered. If you need custom boxes that'll gain your customer's attention and help increase sales volume, PREMIUM Paper Box is just what you need.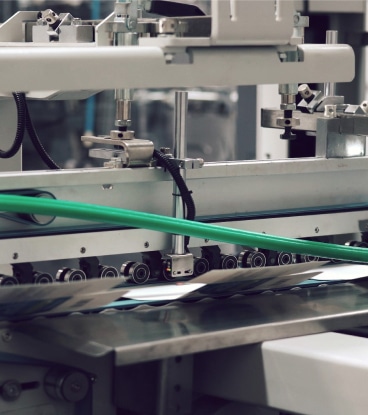 We Provide a Large Array of Custom Printed Boxes
At PREMIUM Paper Box, we come with the ideal solutions to all your packaging needs. Besides offering a safe cocoon for your products, our packaging services will leave a strong impression on your clients. Additionally, we look forward to guiding you through all the available options to ensure that you receive the best solutions for your needs.
Whether you're searching for paperboard, pillow boxes, or chipboard packaging, at PREMIUM Paper box, you will find everything you need. If you choose suitable design options, your packaging can be exquisite at a reasonable price. Want to get a free quote? Or have questions regarding the selection, design, or choice of custom printed boxes? You can contact us at [email protected] to learn more. Our team looks forward to providing the outstanding packaging solutions you can depend on.
PREMIUM Paper Box Provides the Ultimate Unboxing Experience
Excellent customized packaging is one of the first steps to turning into a well-known brand rather than just another small company. Our primary goal is customer satisfaction, consistent quality services, and timely turn-around. No matter how difficult your customization options may seem, we will provide the ideal solution for you! The experts at PREMIUM Paper Box can handle the most challenging jobs, designing and bundling impressive quantities of paper to create the perfect packaging products you require.
Undoubtedly, your communication with customers can take various forms and shapes. With our fine selection of custom-printed boxes and your innovative designs, we can ideally create unique packaging for your products. Let us take part in building your brand so that you can grab potential customers' attention. Contact us today to increase your brand's recognition.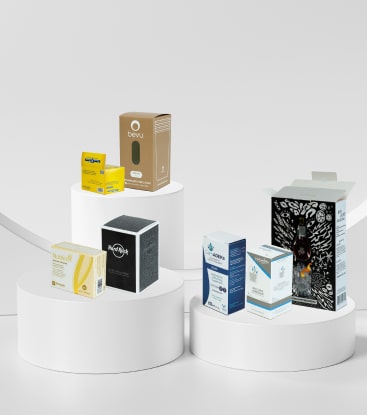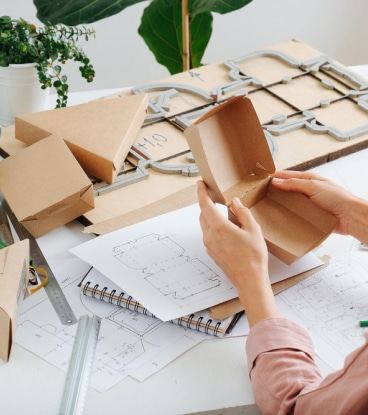 How Does the Custom Packaging Process Work?
Once you get in touch with our company, you'll notice that not only do we create the ideal packaging solution to protect your items, but we'll make them stand out on a crowded shelf. When you choose your custom packaging style, you must consider your custom box design. Selecting a box type based on the presentation, duration, and product protection would be best.
Personalize your box by adding your own logo, patterns, and colors. Then customize your box's dimensions so you can secure a perfect fit for your items. Lastly, set up your needed quantity, production options, and delivery services. Whether you need essential folding boxes or custom printed boxes, at PREMIUM Paper Box, we have just what you need and more.
When we create your custom printed boxes under our roof in Miami Lakes, FL, we want to know you and your business – the environmental factor, your target market, the information needed within your packaging, and production limitations – to secure your products with the most substantial impact.
Why Choose PREMIUM Paper Box?
Every day, our team dedicates itself to keeping track of the ever-evolving industry, providing an extensive array of custom-printed paper boxes. When you stop at PREMIUM Paper Box, you and your business will get the highest quality packaging products at great prices and many years of experience. We will always stand behind our promises and principles to help you along the way.
Moreover, our range of custom-printed boxes can be sold and delivered nationwide direct to your door. At PREMIUM Paper Box, we offer a personalized, one-on-one approach to ensure our customers get the exact boxes they need. Call us at 305-691-1468 if you have any questions.