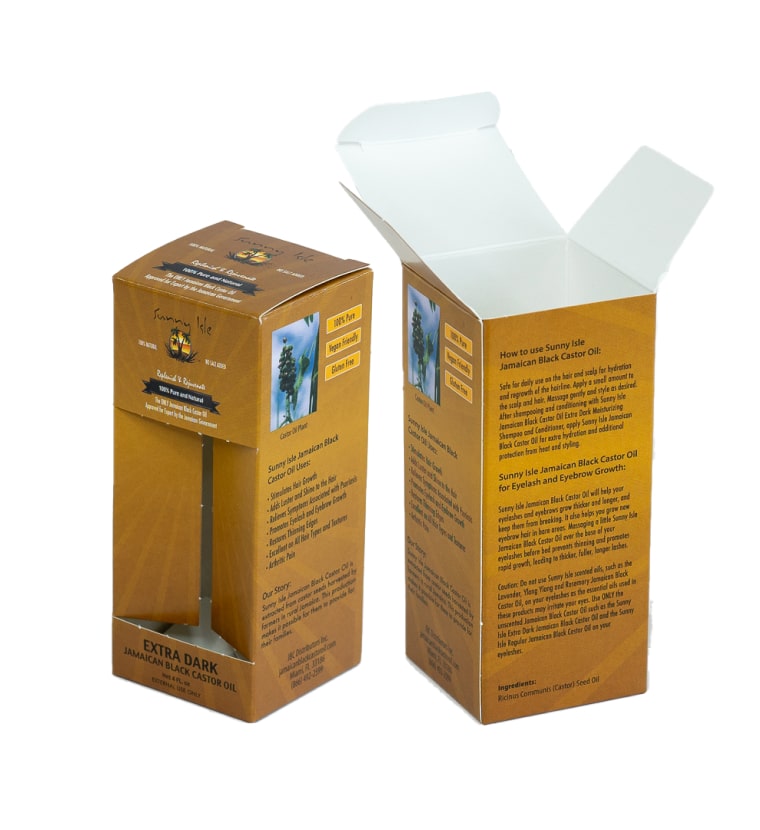 Custom Essential Oil Paper Packaging Boxes
Our relationships with repeat customers stretch back more than 15 years. That's how long we've been manufacturing high quality, custom paper boxes that comply with rigorous labeling standards and other requirements. Our convenient rigid trays for consumer point-of-use are distinctive and practical. Precise manufacturing, timely turnaround—especially on repeat orders–and reliable pricing go hand-in-hand with the…
Get a Quote
People have been using essential oils for relaxation and health purposes for thousands of years. While some use them to ease stress and boost their mood, others use essential oils to relieve pain and get better sleep at night. Essential oils have many mental and physical benefits and can also improve your skin and hair.
With more and more essential oil brands launching on the market comes the need for packaging that stands out. Manufacturers know that custom boxes can enhance their brands' identity. If you're in the market for great packaging solutions for your essential oils, then you have come to the right place. At PREMIUM Paper Box, you will find a leading box company supplying an incredible array of custom boxes.
What to Know About Essential Oil Paper Boxes
There are many essential oil brands on the market. To ensure yours stands out, you need high-quality personalized boxes. Essential oil paper boxes need an eye-catching design, style, and sturdy material. Your boxes should secure your products while creating a long-lasting impression on your customers. At PREMIUM Paper Box, our custom boxes are made with top-quality features to ensure your products are stored and delivered safely.
No matter how complex your artwork may seem, your logo and text are printed exactly how you want. Based on your preferences and requirements, we can meet your demands.
When you get in touch with our team, specify the dimensions you need for your custom-sized essential oil boxes. Once you have decided on the size, select the logo, images, taglines, or design you want to print. Whether you want to pack only one essential oil bottle or two to four in a single pack, we'll bring your vision to life.
You'll notice the influence custom packaging can have on your sales. Finding an excellent design for your custom boxes can make all the difference. Ensure that your essential oil packaging is bold and eye-catching. If you need the best boxes for your essential oils, turn to PREMIUM Paper Box. Our team will provide the perfect custom essential oil packaging boxes to offer the ultimate unboxing experience.
Work with PREMIUM Paper Box to Get Essential Oil Boxes
Getting potential buyers to test your essential oils might be challenging, especially if you are new to the cosmetic market. You'll need to do whatever it takes to get noticed. Essential oil custom boxes can help. If you're on the hunt for alluring custom paper boxes, look no further. Get excellent packaging boxes made by the specialists of PREMIUM Paper Box.
Besides having your brand's logo, tagline, or design printed on your essential oil boxes, you can also add product images and other helpful information to let your customers know who you are. Include health caution and application instructions as well.
At PREMIUM Paper Box, we have more than 15 years of experience manufacturing cosmetic packaging. Custom packaging is essential for creating a unique unboxing experience while keeping fragile essential oils secure. Custom essential oil boxes offer protection for your product and great publicity. A captivating packaging design can leave your customers with an excellent brand image.
Custom packaging is an essential label for your brand and can bring you great marketing results. We create innovative and compelling custom essential oil boxes that speak for themselves. Thanks to our latest printing techniques, skilled in-house specialists, and modern equipment, we manufacture great-looking boxes to set your essential oils apart and grab the attention of potential customers.
Let us help you create a custom paper box to highlight your business. In addition to offering an eco-friendly and sustainable custom folding box, your items will be secure for any delivery. Give us a call at 305-691-1468.
FAQs
How long does it last to manufacture custom essential oil paper boxes?
It may take two or three weeks to produce your essential oil paper boxes after you approve the printing proof. However, the period depends on the characteristics of your project. The standard delivery time can add three to four business days until you receive your order.
How much does a custom essential oil box cost?
The price varies based on the project. The most important variables that determine the final price include the design, the thickness of the paper, the size of the run, labor cost, printing, and add-ons. If you are interested in a price quote, send us your project at [email protected].
Are you manufacturing in the United States?
Everything is made in Miami Lakes, FL.
Do you require a MOQ on any given order?
We normally do, yes. However, the number may depend on the kind of project. As a reference, orders under 3,000 pieces are more complex and expensive.
How is a box's dimension determined?
A box's dimension is standard in the commerce industry, namely: W (Width) x D (Depth) x H (Height), where W stands for the front of the box.