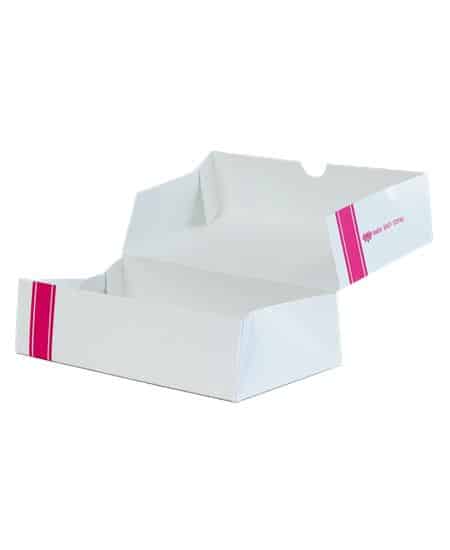 Custom Pastry Paper Boxes
Nothing beats your customer's attention in this competitive world more than custom pastry boxes. If you own a bakery, you already know that you need to make your presence felt in the sweetened baked world, by making your customers recognize your brand loyalty. For that purpose, our custom bakery boxes might be just what you…
Get a Quote
What is a Pastry Box?
Custom pie boxes allow you to present your pies or bakery items with more charm, helping you grab your customer's attention from the very first time they lay eyes on the box. In our era, people cannot ignore boxes with eye-catching designs made from high-quality paperboard. Our bakery boxes speak aloud about your brand's identity while securing your products and keeping them fresh.
Suppose you are linked to the pastry industry, then you need several bakery boxes in a large array of styles and sizes to fit cakes of every size and shape. Regardless of your needs and requirements, we can create your custom pastry packaging with your brand's logo, own custom design, or message. Our dessert boxes will maximize protection and prevent your goodies from getting jostled. In addition to offering a safe cocoon to your sweet favors, our printed packaging services will leave a solid impression on all your clients. You can even choose to beautifully display them using boxes with a clear display window.
A bakery box should be wide enough to snugly and securely fit your large array of different pastry plates. Every custom-printed box we create is made to meet your exact needs and specifications. For us, the most important thing is to create secure yet sophisticated, biodegradable, and eco-friendly custom cake boxes while keeping your brand in the minds of your customers. As a top custom folding paper box supplier, we provide a strong pastry box structure and packaging solution to protect your delicious desserts from potential damage and improve your customers' impression of your brand.
What are Bakery Boxes Made Of?
You will find solid custom folding paper boxes made from 100% recycled paper with kraft interiors at PREMIUM Paper Box. All our boxes comply with the FDA regulations for food packaging and are manufactured under one roof in Miami Lakes, FL.
Available in any color and design of your choice, custom pastry boxes arrive flat for better delivery and storage. No matter if you use bakery boxes to deliver your sweet party favors or to display them in a delightful manner, we can manufacture any custom-treat boxes you need. They can all be personalized in color, shape, and size. Our team manufactures exclusively printed pastry box packaging that keeps your sweet pastries protected and makes them look appealing to the goodies.
Understanding that you can't just randomly pick any box for your homemade treats is vital. Instead, you should know that the packaging is a significant aspect of your brand. A beautifully decorated custom box will leave a long-lasting impression on your customers, who will potentially decide to return to you. In addition, it would be best if you were assured that the quality of your pastries remains unharmed, so try to order custom boxes made of authentic materials.
Here at PREMIUM Paper Box, we focus on making durable, easy-to-assemble, sustainable, and premium-quality custom paper boxes. Call us at 305-691-1468 today to learn more.
Why Are Pastry Boxes Pink on TV?
Have you ever noticed how in movies, doughnuts and pastries have always come in pink boxes? According to the Los Angeles Times, it was in the 1970s when the Cambodian refugees popularized the usage of pink boxes. They decided to use pink boxes over the expensive white boxes. Even more, the Los Angeles Times noted that while there was only a difference of a few cents per box, the savings would add up immediately on the thousands of boxes sold every week. Shop owners only did so to avoid skimping on ingredients. This means you would have received a less expensive pink pastry box and a more delicious treat inside.
As the old saying goes, 'good things come in pink boxes'; if you offer finger-licking pastries and outstanding customer service, make sure to choose a unique design. Whether you want to display your desserts at an upcoming bake sale or to provide a way for your cafe customers to buy and take their favorite treats, our custom pastry boxes might be just what you are looking for. Need a see-through window box? Say no more! At PREMIUM Paper Box, we offer excellent sustainable and renewable bakery packaging options made from paper, so you can uniquely and stylishly present your brand image.
Settle For Nothing But Our Pastry Custom Boxes
PREMIUM Paper Box is your one-stop shop if you need custom cake boxes for your baked goods! Here, under our roof in Miami Lakes, FL, we're happy to help you customize your cake boxes to meet your packaging needs. We are dedicated to providing a full range of styles, designs, and shapes for your cakes, cupcakes, or other desserts with 100% customization. Using eco-friendly, recycled, and biodegradable materials, PREMIUM Paper Box is the right call for when you're looking for the best packaging services.
We understand that your cakes and pastries must be highly secure so they won't move around during transit. This means you will need custom-printed boxes that can fit your sweets and lots of padding around the top, bottom, and sides. Based on the sizes of your desserts, we can determine the size of your boxes and whether they should be airtight or not.
Whether you opt for a simple design or a fancy, colorful one to pack your pastries, our custom pastry boxes are a must. Our easy-to-assemble printed boxes are premium quality, meaning that your goods are secure and ready to be presented to your lucky customers. They are lightweight and easy to carry and can easily protect delicate desserts, so they get to their destination intact.
Get the advantage of our uncomparable custom printed dessert boxes and order the best boxes made on the market just for your brand with significant consideration and customer service. Through our 15 years of experience, we promised and delivered the best products in the shortest time so that you can enjoy our services at all times.
FAQs
A pastry display box might be ideal for your products. However, always consider where you will place your delicious goodies and if the shelf is high enough to keep the flap stand. Do you think you can replace the food display box with a tray box that fulfills the same purpose? Please keep in mind that all these decisions may impact the final price of your project.
If you want to measure a box, use a ruler or another device to measure the length, width, and height. The dimension of a box is standard in the industry: W (Width) x D (Depth) x H (Height), where W is the front of the box (the one that will face your customer). However, keep in mind that the listed dimensions are always the inner dimensions.
Depending on the characteristics of your project, it may take two to three weeks to produce your bulk orders of custom boxes after you approve the printing proofs. Remember that we never charge for printing plates, meaning that, if necessary, you can change the artwork you run for your new order at no extra cost. Also, the standard shipping transit time is an additional 3-4 business days.
The prices generally vary depending on each particular project. Factors that usually play a significant role in defining the final price of a custom box include the thickness of the paper (thicker paper may cost you more), design, printing, embossing, debossing, spot UV, size of the run, and labor costs. Please send us your project today so we can give you a price right away.
The CMYK color model or process color or four-color process it's based on the CMYK color model. Simply put, the CMYK refers to the four ink plates used in some color printing: cyan, magenta, yellow, and key (black). CMYK colors are also used to describe the printing process.
Depending on where you want us to deliver your custom beverage boxes (we deliver nationwide), we may charge you for freight costs.
If you have any more questions, call us at 305-691-1468 or email us at [email protected].