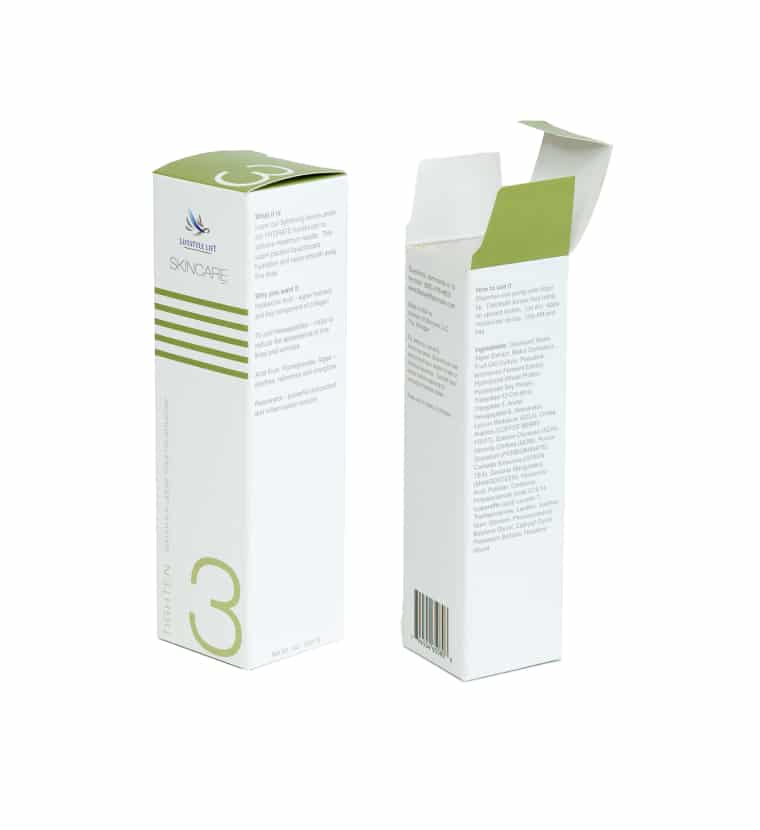 Custom Makeup Paper Packaging Boxes
We create packaging solutions that reflect your premium products and the sophisticated tastes of your market. Custom-designed inserts will securely hold–and attractively display–the products within your perfectly-engineered boxes. Our experienced staff and state-of-the-art equipment ensure top quality and timely turnaround, supplying paper stocks and brand-defining presence from eco-friendly to brilliantly high tech.
Get a Quote
In the cosmetic world, every product symbolizes style and fashion. So how can you make your products stand out from the competition in this ever-growing industry? To provide a high-end experience to your customers, consider elegant packaging solutions from PREMIUM Paper Box. Whether you're looking for lip gloss, lipstick, eyelash, or eyeshadow custom boxes, you have come to the right place.
With us, you can create amazing custom skincare packaging that is easy to build yet hard to miss. Whether you are launching your business or are an expert in the field, getting customers starts with getting your brand noticed. Don't be just another brand that remains unnoticed. At PREMIUM Paper Box, we provide you with complete control of customizing your cosmetic box packaging.
Custom Packaging Products
Custom packaging is the best tool for advertising your products and impressing your customers. Packaging plays a critical role in promoting your brand. We offer branded packaging to define your company, build a brand personality, and enhance your recognition. Let us create for you a perfect beauty packaging that highlights your business.
When it comes to the cosmetic industry, we provide boxes for lip glosses, lipsticks, eyelashes, and eyeshadows.
Lip Gloss Boxes
Lip glosses are popular in the cosmetic world, so your lip gloss boxes should always be bold and eye-catching. To drive your products' sales and popularity, use attractive packaging that'll wow potential customers. Besides providing a safe cocoon for your products, you will ensure that your items are safely and securely delivered to your customers.
Around 70% of customers make their purchasing decision based on the product's packaging, with most thinking that the packaging indicates the product's quality. You cannot afford to risk staying behind your competitors. At PREMIUM Paper Box, we provide a large array of custom cosmetic boxes to make your brand stand out from the crowd and keep your items safe. We can create any shape and size of your choice.
Regardless of your desired add-ons and embellishments, we can customize your packaging to your specifications. Let your creativity run wild and get ahead in the cosmetic competition with the help of our dedicated and experienced team. We offer a fantastic solution for branding your products. Don't hesitate to get in touch and ask for a quote.
Lipstick Boxes
Lipsticks are among the most popular beauty products worldwide. Most lipstick customers make their buying decision right in the store. It's obvious why custom lipstick boxes play such a vital role in sales.
Lipsticks have turned into a personal signature. You need to think about how you can make yourself stand out on retail shelves. The packaging of your lipstick might be the most significant asset, as it will help you maximize your brand's exposure while offering a one-of-a-kind identity. Whether you need an innovative style, great add-ons, a unique shape, premium material, or eco-friendly packaging, our team can provide cost-effective lipstick packaging solutions to help.
Eyelash Boxes
Eyelash boxes are usually cardboard-made boxes where you can print your brand's logo or image. At PREMIUM Paper Box, our team provides design services to fit your lash packs perfectly. Moreover, our custom makeup packaging is made from sturdy material to ensure your cosmetic products are free from tampering. Thanks to our wholesale prices, various inventory, and trusted reputation in the custom packaging industry, we are a reliable packaging choice.
Eyeshadow Boxes
Customize the safest packaging for your eyeshadows while maximizing their visual aspect to get your customers' attention. If you are looking to create a hypnotic display of your eye shadow palettes, count on us to separate your products from the rest. Our printing and packaging specialists use their experience, knowledge, and updated technology to build your custom cosmetic packaging.
If you want peace of mind from start to end, work with PREMIUM Paper Box to create your custom cosmetic packaging. We dedicate ourselves to keeping track of the ever-growing beauty industry to provide an extensive array of printing and packaging services. When you work with us, you get the highest standards when it comes to packaging products at reasonable prices.
Types of Custom Paper Boxes
At PREMIUM Paper Box, we offer high-quality custom paper boxes that are sure to turn heads. Whether you're interested in customizing paper folding, display, pillow, or base and lid boxes, our primary goal is to provide complete satisfaction.
Display boxes are great for displaying your cosmetic products at sales counters. You highlight your cosmetic items while getting your target audience's attention. Display boxes can do wonders for your brand. We'll create custom paper display boxes according to your needs, specifications, and preferences that customers have never seen anywhere else.
If you think custom paper base and lid boxes better suit your needs, we have you covered! Whether you are just starting your business or looking to expand, custom base and lid boxes can be an excellent option for your brand. These custom boxes can satisfy any packing needs and are ideal as gifts or e-commerce.
PREMIUM Paper Box has been in the paper manufacturing industry for over 15 years. We strive to keep up with the cutting-edge modern custom packaging needs and trends, providing a wide variety of custom paper services.
You can also go with custom pillow boxes. They are usually used for packaging small or light items, promotional products, or gifts. We can cater to all your specifications to customize your paper boxes with your brand's information.
Why Choose PREMIUM Paper Box?
With PREMIUM Paper Box, you'll notice that we are dedicated and focused on providing innovative solutions to accommodate any type of custom paper packaging you may need for your business. We are a leading box company supplying a great variety of custom boxes nationwide. We encourage your brand's image and identity in the competitive cosmetic market and advise on the best packaging solutions for your products.
Besides excellent customer service, we offer custom printing for various applications and industries. Do you want a quote? Or have questions regarding the design, size, or choice of custom printed boxes? Contact us at [email protected] to learn more.
We look forward to providing innovative packaging solutions you can depend on. Call us at 305-691-1468.
FAQs
What is your lead time for custom makeup packaging?
Every custom paper packaging is different, as the characteristics of an order can play a considerable role in the time taken to finish an order. But expect it to take two to three weeks after you have approved the printing proofs to ship.
Do you deliver?
Yes, we deliver nationwide. However, we will have to charge you for freight costs.
I want to order custom makeup packaging. Do you require a minimum order quantity?
Depending on your project, this number can vary. But as a reference, orders under 3,000 pieces tend to be more expensive and challenging to complete.
Do you charge for printing plates?
No, we never charge for printing plates. You can change the artwork you use every time you run your new custom paper boxes order at no extra cost to you.
How much do custom makeup boxes cost?
The price of custom makeup boxes varies based on factors such as the paper's thickness, size of the run, design, labor cost, printing, and embellishments. Send us your project so we can offer you a price.