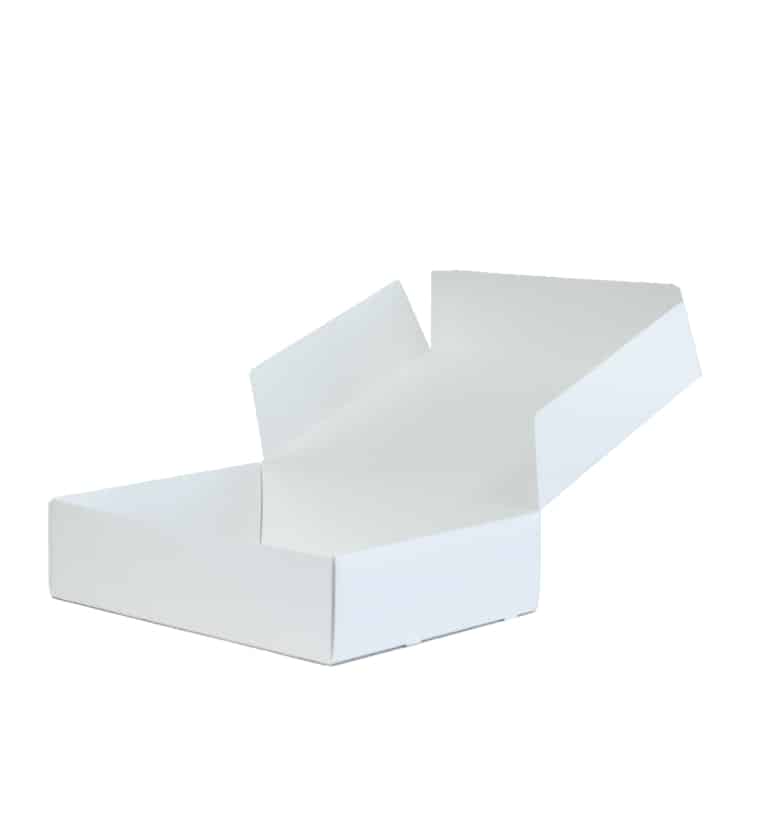 Custom Cake Packaging Paper Boxes
If you need custom cake boxes for your delicious desserts, you've come to the right place! At PREMIUM Paper Box, we're happy to help you customize your cake boxes to meet your packaging needs. We are dedicated to offering a full range of styles, designs, and shapes for your cakes with 100% customization. Using eco-friendly…
Get a Quote
What Type of Paper is Used for Cake Boxes?
To ensure the protection of all your pastries, you must use the right custom bakery boxes. Custom cake paper boxes are ideal for packing your sweet treats in grand style and keeping them in the best condition. At PREMIUM Paper Box, we manufacture cake and pastry boxes in various sizes and styles to fit cakes of every shape and size. Regarding what type of paper is available for dessert boxes, the most commonly used materials are recycled paper, virgin paper board, duplex paper board, and imported kraft paper.
Generally, the paper's quality depends on the GSM (grams per square meter). Moreover, the manufacturer decides the burst factor of paper is decided by the manufacturer depending on the requirement of the box, based on the size of the box, the maximum weight the box holds, and whether the boxes will be stacked over each other. Depending on your specifications and theme, we will guide you in choosing the suitable types and shapes for your cake boxes.
Whether you choose a simple design or a complex one to pack your cakes, our custom cake boxes are a must for your brand. Besides being lightweight and easy to carry, our products can protect your delicate cakes. Moreover, our custom-printed cake boxes are incredibly easy-to-assemble and feature premium quality. This means your goods will be secure and ready to be presented and delivered to your lucky customers.
How Do You Package a Cake?
Cakes are unique, so they should be packed and delivered in a memorable way. As a leading box company supplying a premium array of custom packaging boxes in Miami, FL, and the rest of the nation, our team is always searching for new and better ways to protect your cakes, whether they are single-serve desserts or mini-cakes. You can choose to beautifully display your treats using boxes with a see-through window.
We understand that your cakes need to be highly secure so they won't move around during transit. You will need custom-printed boxes that can fit your cake and lots of padding around the top, bottom, and sides. Based on the sizes of your cakes, we can determine the size of your boxes and whether the boxes must be airtight or not. For wedding cakes, you can choose larger custom-printed boxes or set them on a cardboard mat.
When you contact PREMIUM Paper Box, you can rest assured that we will make your products stand out from the crowd to attract new potential customers. We can create your custom product packaging with your logo, slogan, or your own custom design. Get your bakery box customized and you can display, transport, and sell single-serve desserts and cakes in our beautifully and safely custom-printed cake paper boxes.
The most common box measurements are:
8″ Cake Boxes / 8 x 8 x 7.3″ (fits a 6″ cake)
10″ Cake Boxes / 10 x 10 x 7.3″ (fits an 8″ cake)
5 x 1.04 x 2.3 inches
4 x 4 x 2.3 inches
Can I Store a Cake in a Cardboard Box?
In most cases, storing a cake is not the same as storing other food items. For example, preserving cakes is often a matter of controlling the temperature. Suppose you cannot manage the temperature conditions. Don't worry! A significant advantage of cardboard boxes is that they soak up moisture.
Custom printed cake paper boxes are designed to maximize protection, prevent the cakes from getting jostled around, and keep your desserts fresh. Besides offering a safe cocoon for your sweet party favors, our packaging services will leave a strong impression on your audience. At PREMIUM Paper Box, we will help you set your brand and business apart, so don't hesitate to get in touch.
Need a Custom Cake Paper Box? Look no Further than PREMIUM Paper Box.
Whether you need custom folding boxes or display boxes for your cakes, we can fully customize them to offer you the best way to show off your brand and company. Use custom-printed boxes with a clear display window to showcase your baked goods at your store or have them shipped to your customers right away. Or, you can use custom folding boxes that can fold into themselves. This way, you can save a lot of space and neatly fold them for your orders on the go!
We provide a strong cake box structure and packaging to protect your goodies from potential damage and improve your customers' impression of your brand. Moreover, every single custom-printed cake box our company creates is made to meet your exact specifications, needs, and requirements. Together, we can create sophisticated, biodegradable, eco-friendly custom cake paper boxes that will make your brand stay in the minds of your customers.
At PREMIUM Paper Box, we offer excellent sustainable and renewable cake packaging options made from paper, so you can uniquely and stylishly present your brand image. In fact, our primary goal is customer satisfaction, consistent quality services, and timely turn-around, so call us at 305-691-1468 today to learn more. We're more than happy to help. 
FAQs
Prices will vary depending on each particular project. Still, the most important variables that play a vital role in determining the final price include the thickness of the paper (thicker paper costs more, so always consider if you really need that sturdy box for your cakes. Many times, you can use thinner paper and save money in the long term), design, printing, embossing, debossing, foil stamping, overall or spot UV, size of the run (make a first run small to test your product, keeping it simple will save you money), and the labor cost.
We generally do, depending on your kind of project. Orders under 3.000 are usually more expensive and challenging to fulfill.
Always consider where you will place your delicious goodies and if the shelf is high enough to keep the flap stand. Do you think you can replace the cake display box with a tray box that fulfills the same purpose? Please keep in mind that all these decisions may impact the final price of your project.
Yes, we ship nationwide. However, we might charge you for freight costs if required.
The dimension of a box is standard in the industry: W (Width) x D (Depth) x H (Height), where W is the front of the box (the part that will face your customer). While measuring the length, width, and height, always remember that the listed dimensions are always interior dimensions.
Sure! A great majority of our customers are in the restaurant and catering industry. So, we are dedicated to providing a wide range of shapes, styles, and designs for cake products that are 100% customizable. We provide fully customized boxes for single desserts to large cakes or mini cakes. Our custom options can include die-cuts, lamination, and luxurious foil stamping. We can manufacture packaging using eco-friendly recycled and biodegradable materials for the environmentally conscious. We will also use modern and efficient machines to create ideal custom-printed boxes that fit your company's needs.
If you have any more questions, call us at 305-691-1468 or email us at [email protected] to get some answers.