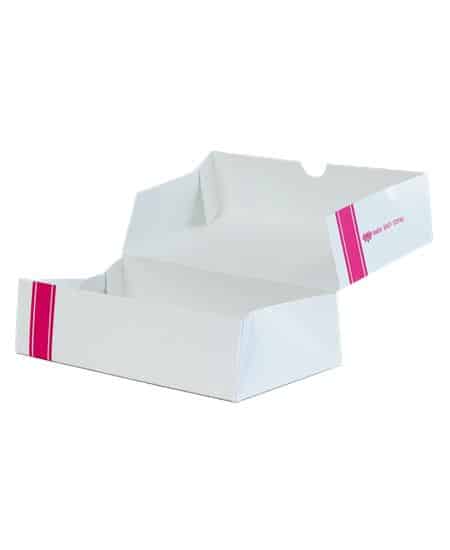 Custom Macaron Paper Packaging Boxes
Macarons are delicious and attractive treats. But to show off their uniqueness, you should present them in stylish and lovely custom food boxes. This means you need to get fabulous custom-printed boxes for these French delectables that will wow your potential customers and have your delicate products looking fantastic and staying safe.
PREMIUM Paper Box can create chic, innovative, and trendy custom-printed boxes to make your treats as alluring as possible to every demographic. Our high-quality printed boxes will protect your macarons from unnecessary damage and retain their freshness and quality for longer. Contact us today to unleash your creativity and distinguish your brand from the rest of the crowd.
Get a Quote
Why Should You Choose Custom Boxes for Your Macarons?
French macarons are a trendy dessert choice that will delight all your customers. Their presence has become essential to many events, from corporate functions to weddings, birthday parties, or get-togethers. However, while macarons are attractive and delicious, they need durable macaron packaging to display and ship them safely and efficiently.
At PREMIUM Paper Box, we provide an extensive assortment of macaron boxes. Whether you need clear-window macaron boxes, base and lid boxes, or dividers, we have everything you need to meet your packaging requirements. Moreover, our packaging ensures compliance with all hygiene and health standards for preserving your macarons' taste, smooth texture, and freshness. While making macarons may require serious practice and effort, you can rest assured that getting your custom packaging will be simple if you work with us.
With our latest printing techniques, you have endless design options to decorate your custom-printed boxes as colorfully and creatively as you like. When you contact us, our team of professionals will print the design you provide to show your products to the world and showcase your brand's identity. Some finishing options for your macaron boxes include spot UV, embossing, debossing, coating, raised ink, and glossy or matte finish. Each option will enhance the overall outlook of your custom macaron boxes and make clients fall in love with your treats before they even take a bite.
Creating the Perfect Macaron Packaging
There are specific things you should consider when buying macaron boxes. Firstly, you need to think about the packaging type, as there are different styles, from large macaron boxes to clear macaron boxes or twist-end boxes. Depending on your particular needs, you would prefer one type of macaron box over another. In our inventory, you will find an incredible array of paper box products to satisfy your needs.
Then, it would help to consider how many macarons you are going to display in each box. At PREMIUM Paper Box, our team makes it easy to filter the box selection by size so you can quickly choose the perfect option, whether you want single macaron boxes or boxes with dozens of sweet treats.
Ultimately, a specific design may be more appropriate depending on where you display your products. If you need some holiday-specific custom boxes or macaron box lids to use as gifts, we can offer great macaron boxes so your packaging can be as unique as the treats you're putting in them.
Contact PREMIUM Paper Box
Custom macaron packaging might be just what you need for your brand, as they are perfect for packing your macarons in grand style and efficiently storing them while keeping them fresh. When you get in touch with us at PREMIUM Paper Box, you will find a leading box company supplying an extensive array of custom packaging boxes in Miami, FL, and nationwide. Make a splash and let your clients show off your brand's name as they leave your store with custom macaron packaging in hand. Our custom-printed macaron boxes can be packed flat for easy storage and are simple to assemble.
Whenever you need information about our custom macaron paper boxes or printing services, we are always here to talk to you about the process. From designing the boxes to shipping them to your doorstep anywhere in the United States. Call 305-691-1468 or email us at [email protected], and we will provide the best custom packaging solutions for your macarons.